Back in March, Temkin Group released the 2017 Temkin Experience Ratings -- its seventh annual customer experience benchmark report.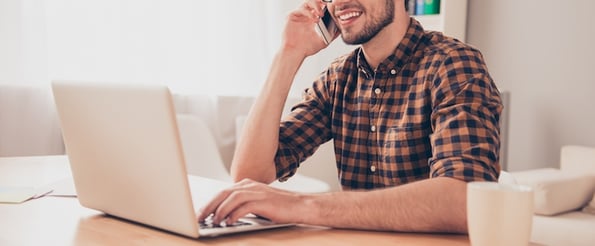 Sitting pretty at the top of the report? Brands like: Publix supermarkets, QVC, Ace Hardware, and AmazonFresh. Rounding out the bottom 50? Brands like: Comcast, Spirit Airlines, Blackboard, and Verizon.
What is Publix getting right that Comcast is so clearly getting so wrong?
Honestly, quite a few things. But perhaps the most obvious is its steadfast commitment to providing a full-service experience. From attentive store clerks to predictive staffing software designed to keep service quick and lines short, the folks at Publix haven't left a box unchecked when it comes to designing a differentiated customer experience -- and it's paying off.
With 72% of businesses saying that improving the customer experience is their top priority, according to Forrester, it should come as no surprise that the time for change is now. And with new technologies that exist to help you collect data across every customer touch point, there's really no excuse for not investing in customer experience. Here's how you can get started.
What Is Customer Experience?
Before we cover the tactical stuff, let's get on the same page about what customer experience is in the first place. In short: customer experience -- or CX -- refers to the sum of every interaction a customer has with a business, both pre- and post-sale.
According to the Temkin Experience Ratings benchmark report we mentioned earlier, there are four key competencies businesses must sustain to achieve long-lasting customer experience success:
Purposeful Leadership: Leaders operate consistently with a clear set of values.
Employee Engagement: Employees are aligned with the goals of the organization.
Compelling Brand Values: Brand promises drive how the organization treats customers.
Customer Connectedness: Customer insights are infused across the organization.
To help you better understand these defining pillars of customer experience, let's zoom in on each of the below.
Improving Customer Experience: A Detailed Explanation of the 4 Core Competencies
1) Purposeful Leadership
Before you can lead the charge towards a better, more consistent customer experience, you need to get organized.
If you have someone in the company that is dedicated to the improvement of customer experience -- a VP of Customer Success, a Chief Customer Officer, Customer Success Manager, etc. -- the strategy should begin in their hands, but bear in mind that they can't, and shouldn't be expected to, manage this type of change alone.
To avoid disruption, align perspectives, and ensure a clear plan for execution, it's important for members of the C-suite to get involved early and often. In fact, research reveals that companies that prioritize customer experience investment boast higher revenue growth and are generally more profitable than companies that don't.
Failure to align senior leadership around customer experience initiatives could spiral into a number of implementation problems down the road, including inconsistent interactions, siloed information, and overall lack of buy-in.
2) Employee Engagement
When it comes to customer experience, you want to focus on your ability to assist customers in accomplishing what they want to do -- their desired outcome. This means ensuring that everyone in the organization -- especially the folks in customer-facing roles -- is aligned on how to deliver productive, purposeful customer interactions.
One way to do this effectively? Create a customer journey map. According to HBR, a customer journey map is quite simply, "a diagram that illustrates the steps your customer(s) go through in engaging with your company, whether it be a product, an online experience, retail experience, or a service, or any combination."
A customer journey map is critical for businesses that want to eliminate inconsistencies, get rid of silos, align efforts across departments, and better understand the customer's needs. It makes it easy for employees to visualize the customer experience from end-to-end, while helping them deepen their understanding of customer needs and expectations.
Depending on your product or service, you may want to create several maps that reflect specific customer interactions -- for example, onboarding. For other businesses, it's more helpful to define one comprehensive maps that includes everything from the first touch point to the very last engagement.
For the sake of simplicity, let's break this down into two parts:
Pre-Sale

Post-Sale
Pre-Sale Customer Journey Mapping
If you've been following HubSpot for a while, you might have come across this diagram: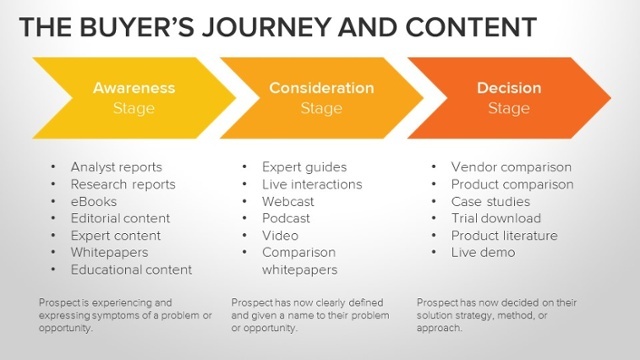 We use this framework to define the buyer's journey -- the process that folks go through as they become aware of, evaluate, and purchase a product or service. We break that process down into three unique stages, each requiring a unique set of content and communication:
Awareness Stage: The buyer has realized and expressed symptoms of a potential problem or opportunity.
Consideration Stage: The buyer has clearly defined and given a name to their problem or opportunity.
Decision Stage: The buyer has defined their solution strategy, method, or approach.
By clearly mapping out the stages a customer will go through before making a purchase, we're able to align the customer experience accordingly. But the buck doesn't stop once they open their wallet -- in fact, the post-sale experience is equally as important and should reflect the interactions leading up to the transaction.
If your business is looking to implement a seamless customer experience, you need to invest equal time and resources into fully understanding the post- sale journey, too.
Post-Sale Customer Journey Mapping
After the sale is where things start to vary a bit depending on your product, service, and industry.
For example, if you're in the world of retail, the post-sale customer journey might include order confirmation, shipping, returns, exchanges, follow up email communication, etc.
However, if you're in the SaaS business, the post-sale customer journey will likely involve onboarding, training, services and support, upselling, renewals, etc.
Regardless of the touch points that occur post-sale, it's important for businesses to define the stages and possible touch points and then, with those in mind, identify the following three things, according to the folks at Customer Champions:
An owner(s) for each touch point

The impact it has upon the customers' experience
The gaps between desired and current performance
3) Compelling Brand Values
At a high level, before you expect to see any shift in your experience, leaders must rally to define a set of non-negotiable brand values. These values should be aimed at providing clarity around both what you stand for as a brand, as well as what the overall shared vision of the organization is.
Regardless of company size, this effort should be driven by leadership, but it can turn into a company-wide initiative if you want to ensure that the ideas resonate with everyone before making it official.
If you already have brand values in place ...
Start with an audit of your brand values, as they exist today. Ask yourself:
Do these values still align with where we are and where we want to go as a company?
Are these values still achievable? Has company growth or redefined priorities changed the way we think about these values?
Are we practicing them daily? (If you find that the value(s) have been hard to stick to, it might be time to redesign them entirely.)
Once you run through this exercise with leadership, feel free to ask employees to reflect on the same set of questions to achieve a more well rounded review. From here, you can use this information to shift what exists and then relaunch the values across the organization so that everyone is aware and onboard with the changes.
If you're starting from scratch ...
Understand this this will be a long process -- one that's worth the time investment. And there are dozens of ways to get started.
Complexities aside, these are a few of the exercises you'll likely want to run through to arrive at a set of meaningful values for your company:
1) Start with the big picture. You might want to create a mood board or simply take some time to jot down all of the words that describe your business and what it is that your do. Conversely, it's often helpful to define words that you don't want associated with your brand to ground your ideas in deeper context.
Ask yourself: What is important to our company and our customers? What makes us different from our competitors?
2) Zoom in. Once you have a general understanding of how you want your business to be perceived, it's time to narrow your focus. Revisit your list or mood board and look for 3-4 ideas that really rise to the top.
Ask yourself: Are we being realistic about what's achievable and what we can expect from people? Can we combine any of these ideas to create one larger, more impactful sentiment?
3) Live the values. In an effort to get everyone in the company on the page, you need to start by living the values on a daily basis. This will help employees understand what these values look and feel like in the context of your business. But living the values isn't always enough to make them stick. Additionally, you'll want to find a place for your values within new hire training, performance reviews, etc.
Ask yourself: Where do these values fit into our day-to-day routine? How can we ensure that they are both clear and being enforced? How can we measure the impact they have?
4) Customer Connectedness
Customer data is one of the most powerful assets your company can leverage. But it takes the right systems and tools to properly organize the data in a way that is both transparent and helpful -- it's not something that you can manage effectively with a bunch of disparate solutions.
If you want to create a sustainable push towards a more positive customer experience, you should evaluate software that makes it easy to bring customer conversations and context together. It's this type of alignment that has the ability to streamline routing, automation, tagging, and outreach.
Not to mention, having the means to distribute customer insights across the organization can also:
Eliminate the need for laborious data collection before a customer's need can be addressed.

Help to create a competitive advantage by increasing efficiency and upping opportunities for more personalized service.

Help all departments create a deep understanding of the customer.

Make it easier to identify opportunities for up-selling and reengagement initiatives aimed at increasing revenue.

Inform the development of products or services.
At the end of the day, customer service is a team sport -- and you should have a data distribution plan in place that makes it easy for everyone to remain connected with the customer.
Leading Customer Experience Change
As with anything worth doing, leading customer experience change will prove to be a challenge -- no matter how prepared you are. There are things you'll overlook, roadblocks that arise unexpectedly, and circumstances you won't consider until you're in the midst of one. But keep in in mind that change is a process -- and it's entirely possible when you remain focused on the four core competencies we hashed out above.
Has your company successfully improved your customer experience? What did the process look like? Share your thoughts below.